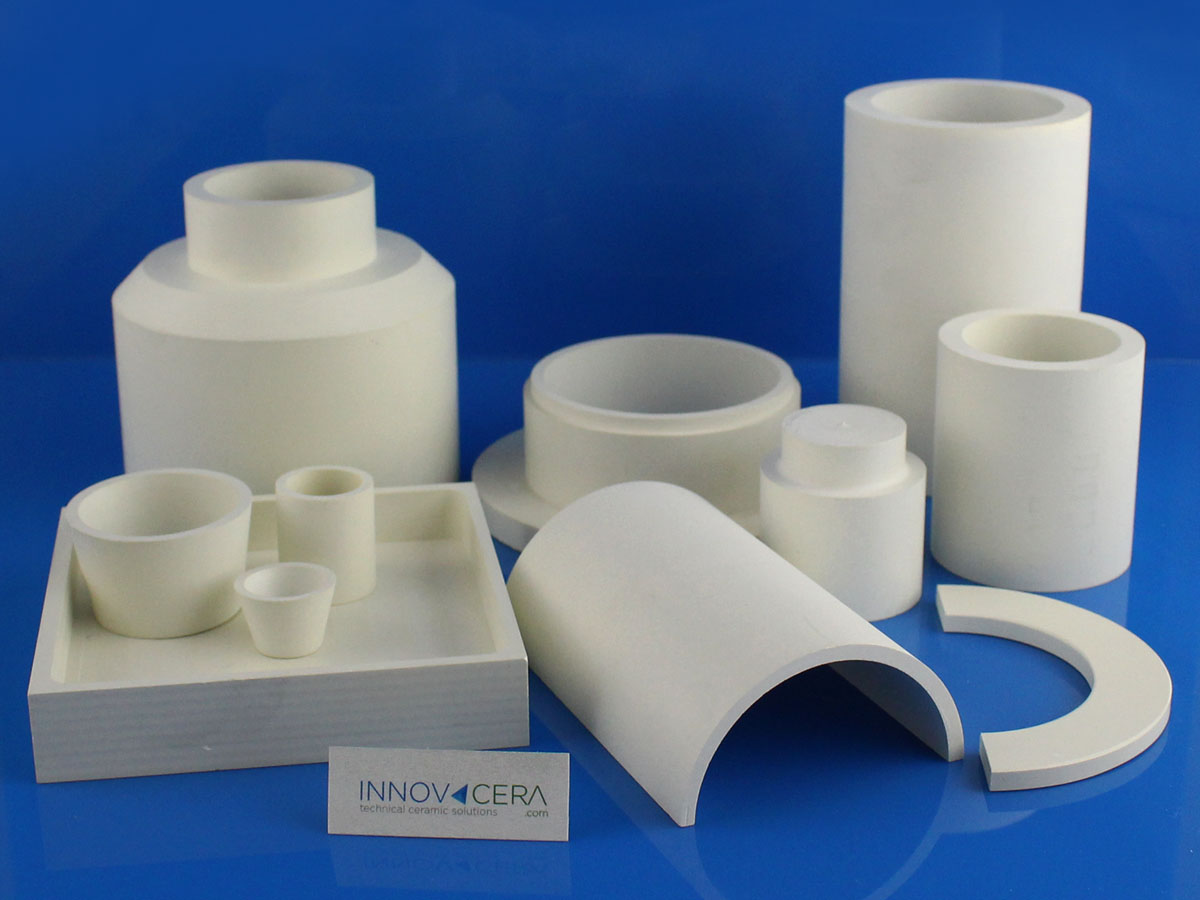 Material of Boron Nitride Ceramics
Pyrolytic Boron Nitride: 99.99% Boron Nitride*
99 Boron Nitride: Boron Nitride + Boric Oxide (B2O3)
CABN: Boron Nitride + Calcium Borate
ALBN: Boron Nitride + Al2BO3
ZRBN: Boron Nitride + Zirconium Oxide + Boric Oxide (B2O3)
ZABN: Boron Nitride + Zirconium Oxide + Aluminum Nitride + Al2BO3
SCBN: Boron Nitride + Silicon Carbon + Al2BO3
Processing of Boron Nitride Ceramics
Hot Pressed Sintering
Chemical Vapor Deposition
Applications of Boron Nitrides Ceramics
Thermal Management
Excellent electrical insulation and thermal conductivity make BN very useful as a heat sink in high-power electronic applications. Its properties compare favorably with beryllium oxide, aluminum oxide, and other electronic packaging materials, and are easier machinable to desired shapes and sizes.
High Temperature Environments
Temperature stability and excellent resistance to thermal shock make BN the ideal material in the toughest high-temperature environments such as equipment for plasma arc welding, diffusion source wafers, and semiconductor crystal growth equipment & processing.
Molten Metal Handling
BN is inorganic, inert, nonreactive with halide salts and reagents, and is not wet by most molten metals and slags. These characteristics, combined with low thermal expansion, make it ideal for interface materials used in various molten metal processes.
Comparison of Boron Nitride Ceramics
Grade
BN997
BN99
BN-SI
BN-AL
BN-SIC
BN-ZR
BN-ALN
Main Composition
BN>99.7%
BN>99%
BN+AL+SI
BN+ZR+AL
BN+SIC
BN+ZRO2
BN+ALN
Bonding Composition
B2O3
B2O3
Boron oxide silicon
Boron oxide aluminum
Boron oxide aluminum
B2O3
Boron oxide aluminum
Density (g/cm3)
1.6
2
2.2-2.3
2.25-2.35
2.4-2.5
2.8-2.9
2.8-2.9
Room Temperature Electric Resistivity (Ω·cm)
>1014
>1014
>1013
>1013
>1012
>1012
>1013
Max Using Temperature (°C)
In Atmosphere
In Inactive Gas
In High Vacuum (Long Time)
900
2100
1800
900
2100
1800
900
1750
1750
900
1750
1750
900
1800
1800
900
1800
1800
900
1750
1750
Three-Point Bending Strength (MPA)
18
35
65
65
80
90
90
Compressive Strength (MPA)
45
85
145
145
175
220
220
Thermal Expansion Coefficient (20-1000°C)
(10-6/K)
1.5
1.8
2.0
2.0
2.8
3.5
2.8
Thermal Conductivity (W/m·k)
35
40
35
35
45
30
85
Typical Application:
High Temperature Furance
High Temperature Furance
Powder Metallurgy
Powder Metallurgy
Powder Metallurgy
Metal Casting
High Temperature
Equipment
High Temperature Electrical Furnace Components (High Temperature Insulator Sleeve Tube etc)
Y
Y
Y
Y
Y
Y
Metal Vaporize Crucible
Y
Y
The Container Of Metal or Glass Melting
Y
Y
Y
Y
Y
Y
Y
The Casting Mould Components Of The Precious Metal And Special Alloy.
Y
Y
High Temperature Support Part
Y
Y
Y
Nozzle And Transport Tube Of The Melting Metal
Y
Y
Y
Y
Y
Y
Remark: The value is just for review, different using conditions will have a little difference.