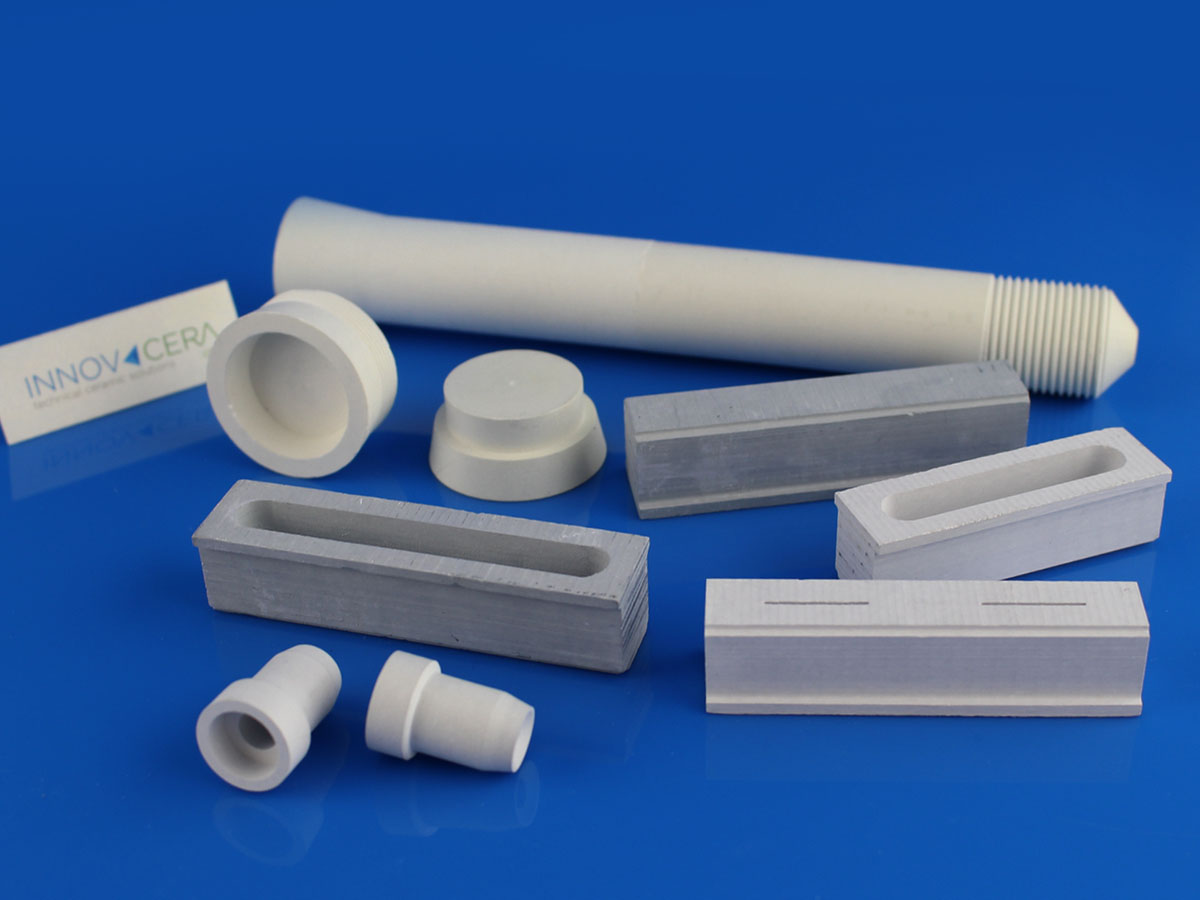 Machinable Boron Nitride ceramic is made by hot pressing Boron Nitride powders at high temperature and pressure. In its solid form, boron nitride is often referred to as "white graphite" because it has a microstructure similar to that of graphite. Innovacera Boron Nitride can easily be machined into rods, bars, plates, and other custom shapes. Innovacera Boron Nitride billet max size is 420*430*220mm and have many years of experience in producing and processing boron nitride ceramic part.
Innovacera Boron Nitride offers excellent electrical, thermal, chemical and mechanical properties as below:
Excellent thermal shock resistance
High electrical resistivity
High thermal conductivity
Good chemical inertness
High temperature material
Excellent lubricating properties — low coefficient of friction
Non-wetting (without oxidation)
High dielectric breakdown strength
Excellent machinability
Because above advantages, boron nitride ceramic products are widely used for below applications:
Molten Metal Contact (Non-ferrous alloys melting refractory components).
PVD, CVD and Plasma Systems (Insulators).
High-Temperature Furnaces (Fixtures and Insulators).
High-Temperature Lubrication and Mold Release
Solutions for Electronic Cooling
Dielectric at High Frequencies
Nuclear reactor shields and linings
Semiconductor wafers
Heat radiation shielding
Transistor heat sinks
Sputtering targets
Melting crucibles and boat for glass and metals.
Amorphous strips Nozzles
Innovacera boron nitride parts such as ceramic insulator parts for furnaces, ceramic crucibles, and boats for melting, nozzles for powder metal gas atomization, and amorphous strips are hot sales products.
If you need any customized boron nitride part, welcome to contact us.