DBC Ceramic Substrate Specifications:
Material: 96% Alumina + Cu/Ag Coating.
Max Size: 138*188mm
Thickness: 0.25-1.0mm (0.25, 0.38, 0.5, 0.63, 0.76, 1.0mm).
General Size:
2″*2″(50.8*50.8mm)
3″*3″(76.2*76.2mm)
4″*4″(101.6*101.6mm)
4.5″*4.5″(114.3*114.3mm)
5″*5″(127*127mm)
5″*5.5″(127*139.7mm)
5.4″*7.4″ (138*188mm)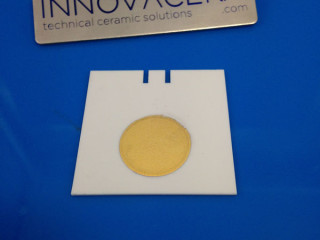 Advantages:
Low thermal resistance.
Excellent insulation properties
Reduce solder layers, lower thermal resistance, reduce cavities, increase the rate of finished products.
The super-thin 0.25mm DBC substrate can be substituted for BeO eliminating the problems of environmental pretection and toxicity.
Avoid withstand the stress caused by the impact of temperature changes, thus greatly extend the life of semiconductor products.
The new packaging and assembly methods can be realized with DBC substrates, it makes the products a higher degrees of integration and volume reduction.
The thermal expansion coefficient close to silicon in the semiconductor chip, it can directly solder on the DBC substrate, saving the interface layer Mo plate and then decrease the cost.
Application:
Solar-panel array
Solid-state relays
Electronic heating devices
Smartpower building blocks
Power Semiconductor Modules
Laser Industrial electronics
Semiconductor refrig-erators
Power control circuits, power hybrids.
High frequency switch mode power supplies
Telecommunication private branch exchange and receiving system.
Building blocks for automobile electronics, the military and aerospace technology.