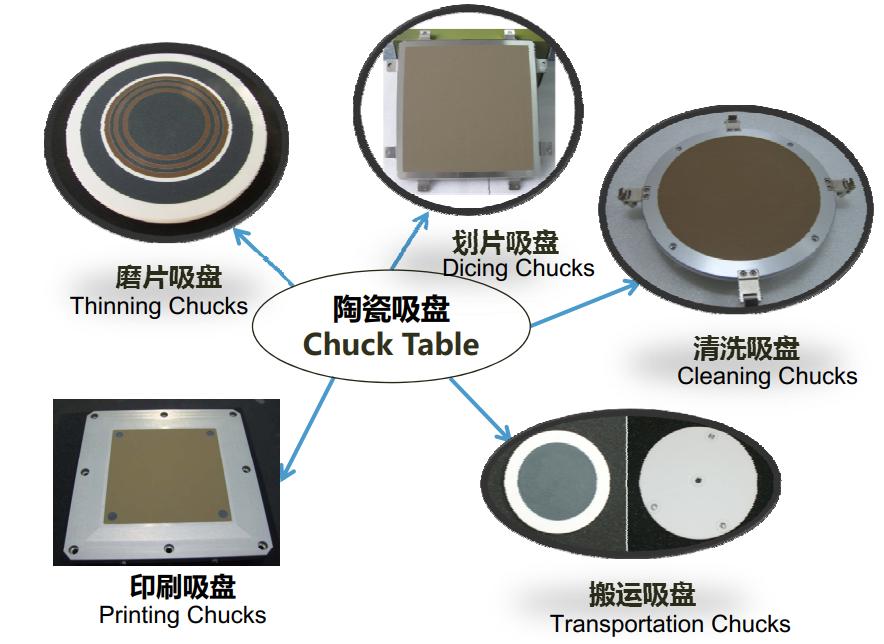 Innovacera supply the Porous Ceramic Chuck Table which is mainly used to support and chuck the semiconductor wafer when grinding and dicing. It is applied in the process of thinning, dicing, clearance, transportation, and so on.
Chuck Table Classification by applications:
Thinning Chucks
Dicing Chucks
Cleaning Chucks
Film Uncovered Chucks
Transportation Chucks(Backlit Chucks)
Grinding Chucks
Thermal Wafer Chucks
Wire Bonding Chuck Tables
Electro Magnetic Dicing Chucks
Freezing Plate Chucks
Main Application field:
–New, and refurbished, porous ceramic chucks for Disco, ADT, K&S, Applied materials. TSK, OKAMOTO, Micro Automation, Load Point, etc dicing saws and grinders.
–4″, 5″, 6″, 8″, 12″ regular size available in round, square, oval shape or irregular. shapes and sizes.
–Custom size is available for us
Characteristics include:
1. High flatness and parallelism
2. Compact and uniform microstructure with high strength
3. Good permeability and uniform adsorption affinity
4. Long lifetime
5. Dressing easily.