Glad to share with you our new arrival products-Hot-pressed Aluminum Nitride Cover Plate Heater with thinnest thickness 0.75mm. It can be said that it is the first time in China that a highly difficult hot-pressed aluminum nitride disc has been produced. It is difficult to make due to below reasons: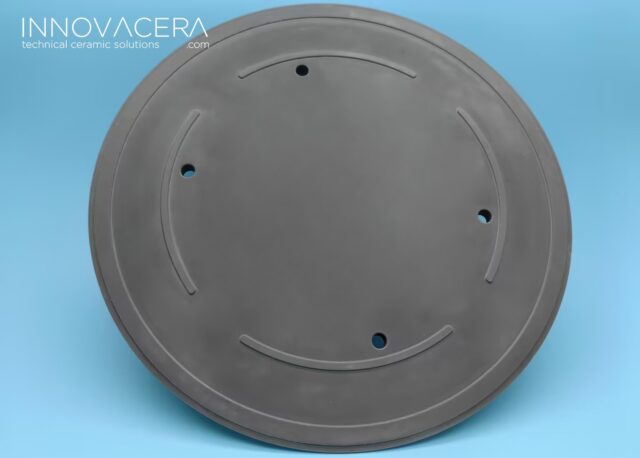 1.The material is very difficult to machine due to the high hardness and brittle, so it is very easily to have chips or scratches when handling or machining which lead to very high rejection rate. Anyway it's a successful start, and we believe we could make better and better.
2.Hot pressed aluminum nitride ceramics are sintered by vacuum hot pressing, the sintering process is more difficult than pressureless sintering. The aluminum nitride purity is up to 99.5%(without any sintering additives), and density after hot pressing reaches 3.3g/cm3, it also has excellent thermal conductivity and high electrical insulation. The thermal conductivity can be from 90 W/(m·k) to 210 W/(m·k).
3.The thinnest thickness is about 0.75mm which also make it more difficult to machine.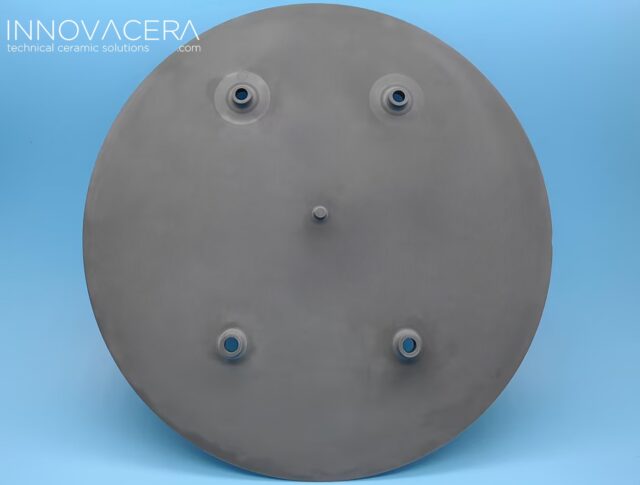 The application of the hot pressed aluminum nitride cover plate heater:
Cover plate heater for semiconductor
Other Application:
– Cover plates and MRI equipment(Magnetic Resonance Imaging)
– High-power detectors, plasma generators, military radios
– Electrostatic chucks and heating plates for semiconductors and integrated circuits
– Infrared and microwave window material
Features:
High thermal conductivity
Expansion coefficient can match with semiconductor silicon chips
High insulation resistance and voltage withstand strength
Low dielectric constant and low dielectric loss
High mechanical strength
Typical Specification:
| | |
| --- | --- |
| Purity: | >99% |
| Density: | >3.3 g/cm3 |
| Compress Strength: | >3,350MPa |
| Bending Strength: | 380MPa |
| Thermal Conductivity: | >90W/(m·K) |
| Coefficient of Thermal Expansion: | 5.0 x 10-6/K |
| Max. Temp: | 1,800°C |
| Volume Resistivity: | 7×1012 Ω·cm |
| Dielectric Strength: | 15 kV/mm |